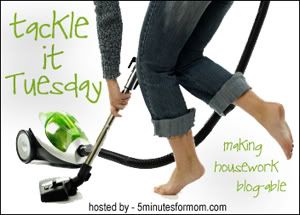 I've joined the 5minutesformom CLR tackle challenge this week! First, I received my full size bottle of CLR in the mail about a week ago. After carefully sitting the bottle on my kitchen counter and staring at it for several days (a week?), I decided to test it on some of my more difficult (ahem, grosser) cleaning jobs around the house.
I need to add a disclaimer here that I'm married to Mr. Clean. Literally. My house on its worst day still isn't THAT bad, and I'd be lying if I said otherwise. I live with the guy who actually moves the chairs, stools, and rugs out of the kitchen before he mops. So...the accumulated mold and mildew and soap scum and other yucky stuff that CLR is supposed to banish really isn't a big issue around here. OK. That said, let me tell you what I DID clean and how the product worked.
In the sinks - I sprayed the underside of the sink faucets to clean the nastiness that lives there then waited the suggested two minutes. When I wiped the faucets, TONS of goo had come loose (yuck - I DRINK out of that faucet) so I grabbed a toothbrush and started scrubbing. I had to repeat the process twice before everything rinsed clear, but WOW do I have some clean faucets now!
In the toilet - Several squirts of CLR into the full toilet bowl plus one rag liberally sprayed with CLR make for a tidy bowl FAST. I was very pleased with how quickly the mold at the water line cleaned with VERY little elbow grease.
In the shower - I don't have a big soap scum problem anymore since I banished all bar soaps from my house and forced liquid soaps and body wash on my loved ones. However, I do (rather, did) have mold around the shower door frame and more nastiness growing in the drain. I sprayed the drain & used a toothbrush to loosen the funk, most of which did finally come loose. For this to be really clean, I think I'll suggest to hubby that he needs to unscrew the drain cover and clean in there. I think the CLR would work great and it would be nice for someone else to do the dirty work! CLR quickly cleaned the red growth on the shower head. The frame around the shower door, the guides at the bottom of the door, and the caulking all continue to have black mold stains, even after using CLR and a toothbrush. I suspect that the growth is behind the caulk which is why I wasn't able to (and never have been able to) get them spotless.
Overall, I am pleased with the way CLR cleaned. I was not impressed with the scent though. I can't describe the smell - maybe "industrial." I am accustomed to cleaning products having a fresh, clean smell (pine, lemon, orange - something pleasing to the nose), but CLR seriously lacks in this category.
On a positive note, I am EXTREMELY sensitive to fumes (as in I develop bronchitis/asthma when exposed to fumes for longer than just a few minutes), and this product did not cause me to have any shortness of breath or coughing spasms. For this reason alone, I'll use it again and would recommend it to others.
Happy cleaning, y'all!!